Location
The Shops at Fallen Timbers
2200 Maple St Ste 315
Maumee
,
OH
43537
Hours
Sunday-Thursday
11:00am–11:00pm
Kitchen until 10:30pm
Friday–Saturday
11:00am–11:00pm
Kitchen until 10:30pm
Happy Hour—Maumee
Join us for Happy Hour every day! Special pricing on this menu available Monday through Friday, 2–6pm, and Saturday through Sunday 11am–4pm.
*prices do not include state sales tax
Drink Specials
Beer
$2.75 Longneck Bottles
Bud, Bud Light, Coors Light, Miller Lite, Bud Select, Miller 64, Michelob Ultra, Yuengling Light
$3.00 Classic Pints
Bud, Bud Light, Coors Light, Miller Lite, Michelob Ultra, Yuengling Lager
$4.00 Classic Tall Boys
Bud, Bud Light, Coors Light, Miller Lite, Michelob Ultra, Yuengling Lager
$1.00 off All Craft/Imports Pints & Tallboys
Mix or Match Craft Beer Bucket
Spirits & Shots
$3.25 Well Drinks
Vodka, Rum, Gin, Tequila, & Scotch
$4 Happy Hour Shots
Butter Crown
Fireball
Mini Beer
Rumpleminze
White Gummy Bear
Crafted Martinis
$5 Happy Hour Martinis
Appletini
Classic Cosmopolitan
Lemon Drop Martini
Cocktails
$5 Happy Hour Cocktails
Absolut Lemonade
Absolut, Fresh Squeezed Lemonade
Strawberry Daiquiri
Served with Whipped Cream
Grape Smash
3 Olives Grape Vodka, Chambord, Blend of Juices
Margarita
Lime, Lemon, or Raspberry
Super Fruity Chick
Absolut, Malibu Mango, Blend of Juices
Paradise Punch
Absolut, Southern Comfort, Amaretto, Blend of Juices
Wine
$20 Wine by the Bottle
Leese Fitch Cabernet
Caposaldo Pinot Grigio
$5 Wine by the Glass
Chardonnay, Pinot Grigio, Cabernet, Merlot
Non-Alcoholic Drinks
Fresh Squeezed Lemonade: $2.49
Strawberry Virgin Daiquiri: $4.00
O'Doul's Amber Ale Bottle: $2.50
Food Specials
Snacks & Share-Ables
Boneless Chicken Breast Chunks
½ lb: $4.99 / full lb. $9.99
Brauhaus German Pub Pretzels
Really Cheesy Barrel Fries
Beer Barrel Style Bruschetta
Pizza
10-inch 2 Item Beer Barrel Style Pizza: $7.49
Gourmet Thin & Crispy Pizzas
12-inch Pepperoni Parmesano: $6.95
12-inch Buffalo Chicken: $10.95
12-inch Bacon & Mashed Potato: $10.95
Drafts
Draft Crafts
Beer Barrel Bright Lager
Platform Beer Co.
Beer Barrel Blood Orange Shandy
North High Brewing Co.
Maumee Bay-Seasonal
Maumee Bay Brewing Co.
Kentucky Bourbon Barrel Ale
Lexington Brewing Co.
Blue Moon Belgian White
Blue Moon Brewing Co.
Barbarian Haze
3 Floyds Brewing Co.
Brilliant Blonde Ale
Findlay Brewing Co.
Ciderboys-Seasonal
Ciderboys Cider Co.
Honeybuzz Double IPA
Earnest Brew Works
Guinness
St. Jame's Gate Brewery
Stella Artois
Anheuser Busch
Shiner Bock
Spoetzl Brewery
Bright White
Bell's Brewery
Great Lakes Seasonal Select
Great Lakes Brewing Co.
Moeller Brew Barn Seasonal Select
Moeller Brew Barn
Draft Classics
Budweiser
Yuengling Lager
Bud Light
Coors Light
Miller Lite
Michelob Ultra
Bottled
Bottled Crafts
Moeller Brew Barn Blackberry Prairie
Moeller Brew Barn Honeywagon IPA
Anderson Valley Blood Orange Gose
Ciderboys Strawberry Magic Cider
Jackie O's Mystic Mama IPA
Weihenstephaner Hefeweizen
Jackie O's Razz Wheat Ale
Breckenridge Vanilla Porter
Dogfish Head Seaquench Ale
Bottled Classics
Budweiser
Bud Light
Miller Lite
Coors Light
Yuengling Light
Bud Zero
Labatt Blue
Sam Adam's Boston Lager
Corona
Corona Light
Corona Premier
Michelob Ultra
Bud Select
Miller High Life
Heineken
Black Cherry White Claw
Mango White Claw
Raspberry White Claw
PBR Tall Boy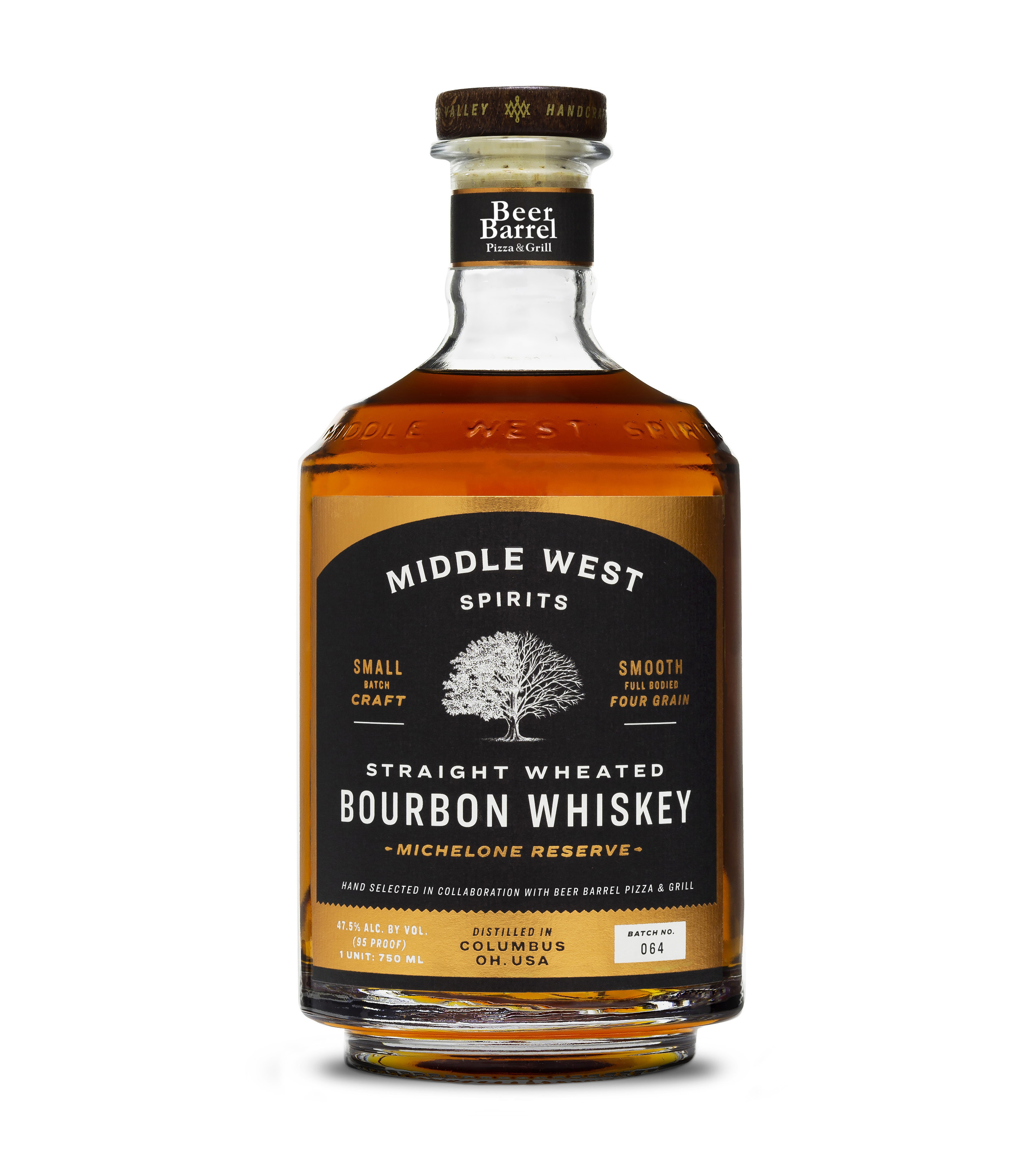 Michelone Reserve Beer Barrel
Michelone Reserve Beer Barrel select is the collaboration of 2 companies built on tradition, shaped by family and friendships, and dedicated to keeping things local. Be sure to enjoy one of our signature cocktails made with this spirit on your next visit. Or stop by the Bottle Shop at Middle West Spirits to purchase a bottle of your own!